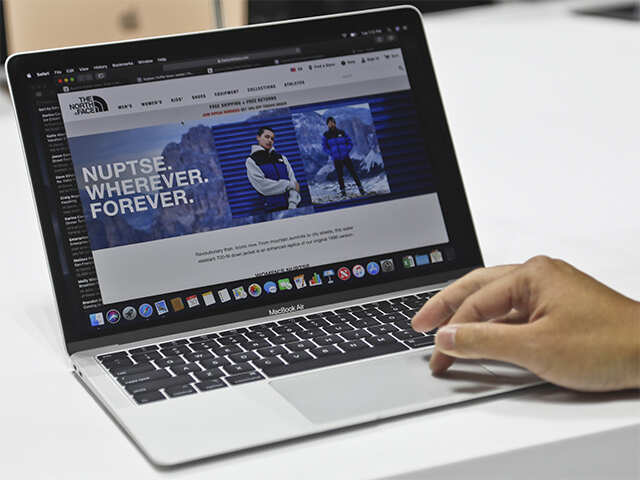 Nearly 10 years after the launch of the first MacBook Air by the late Steve Jobs, his successor Tim Cook pr… Read More
NEW DELHI: The Macbook Air has always been the most affordable Apple laptop in India that people had mostly aspired to buy. In the recent festive sales, the 2017 model of the Apple MacBook Air was available for as low as Rs 48,000 after cashback offers on e-commerce websites that made it a great buy for day-to-day usage Now, Apple has finally launched the next-generation MacBook Air. The starting prices of the new MacBook Air is Rs 1,14,900. So, does it still make sense to buy the old one or should you wait for the new MacBook Air to start selling in India?
Before talking about the price difference, let's recalll the ideal purpose of the MacBook Air. The MacBook Air has never been a workhorse and was always meant for day-to-day regular usage. While for a market like India, the older MacBook Air(2017) still makes sense for people who just wants a reliable Mac for regular usage. Also, the new 2018 model is bound to give second thoughts to consumers, given its high price.
Apple Macbook Air: Original vs New
As far as the user experience is concerned, it would be very difficult to judge the performance in regular day-to-day jobs. Having said that when it comes to be prowess and display capabilities, the new MacBook Air is bound to please you.
Design-wise, the new MacBook Air is thinner and comes with a better Retina Display. Apple claims four times the pixels of the regular display. While the display quality claim remains to be tested, the new MacBook Air comes with Touch ID support. This means the Apple MacBook Air finally gets fingerprint support in 2018.
You can also use your fingerprint to access locked documents, notes and system settings, without entering the password.
The new Apple MacBook Air is powered by the T2 security chip which also enables support for 'Hey Siri assistance.'
As far as the user experience is concerned, the new MacBook Air comes with 'butterfly mechanism' keyboard for better key stability than a traditional scissor. Thankfully the keys are individual LED-backlit keys with an ambient light sensor helping you type in low-light environments.
Apple has included a slightly bigger force TouchPad. The new MacBook Air comes with an eight-generation 1.6 GHz dual-core Intel Core i5 processor with up to 16GB of RAM and 1.5 TB of internal storage.
The screen size is similar with 13.3 LED backlight technology and IPS support along with Intel Graphics 617 UHD graphics comes with slightly better battery life
["source=forbes"]